Glenmac is a high country merino sheep and beef cattle farm spread over 1583 hectares. Nestled in the quiet Waitaki Valley, the family farm is 60km's from Oamaru and 15km's from Kurow township.
Your hosts Kaye and Keith welcome you and guarantee an enjoyable and relaxing holiday experience for all visitors to their friendly high country farm accommodation. Glenmac have provided information on local activities including Horse Treks, tramping, mountain biking, local winery, fossil trail, hot tubs and much more to help you plan a great holiday. Take a look at our Waitaki Valley & Kurow blog for an overview on great Things to Do, Nearby Town, plus Walks and Tracks – and don't forget to check out the below photo gallery for a glimpse of the true natural beauty of the district.
An affordable range of farm style accommodation is available to suit the budget and requirements of independent travellers and families to our rural South Island destination.
You are welcome to request a quotation or Make a Booking for your preferred style of country accommodation, you can also request further information on visitor activities which are available either on farm or in the local area , such as horse riding, 4×4 wheel driving, golf, mountain biking, tramping/hiking, fishing (guide available), fossil trail, winery (sample locally grown wines), visit the penguins etc.
Please do not hesitate to Contact us if you have any questions, or email us directly at info@farmstaynewzealand.co.nz. We are strong supporters of tourism related networking and encourage like-minded Websites to exchange Links with us. If you believe your Website meets our criteria then Submit your site for review.
Bed and Breakfast
The Dinner, Bed and Breakfast accommodation option is a great way to experience the fun of farm life without any of the hard work involved! Dinner is a time when guests join the hosts for a home cooked meal, country hospitality and a relaxing chat.
Campervan Park
Our Campervan Park campground is designed for travellers and holidaymakers who prefer to avoid crowded camping. Situated in a picturesque rural setting, our boutique campervan and camping area has shower, toilet, laundry and full kitchen.
the Shearers Quarters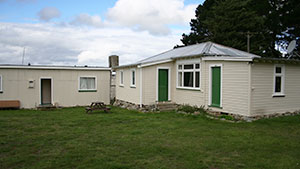 The Shearers Quarters has beds for nine guests and provides clean, warm and comfortable budget farm style accommodation. All linen is supplied and the shared TV lounge and full kitchen facilities, you can join the family for a evening meal!
<